Opt for black solar panels for a sleek, modern solar panel design
Black solar panels absorb more sunlight than any other colour, making them incredibly efficient
Take advantage of 0% VAT deal to make your battery installation even more affordable
We will  always price match with any of the competition so you know you are getting the best deal
Pay for your solar battery set up with manageable payments over a 7-year period
All our solar batteries are completely plug and play, meaning you can add more batteries as and when you need to!
Our Greenlinx Solar Batteries come with 12 year warranty so you can stay worry free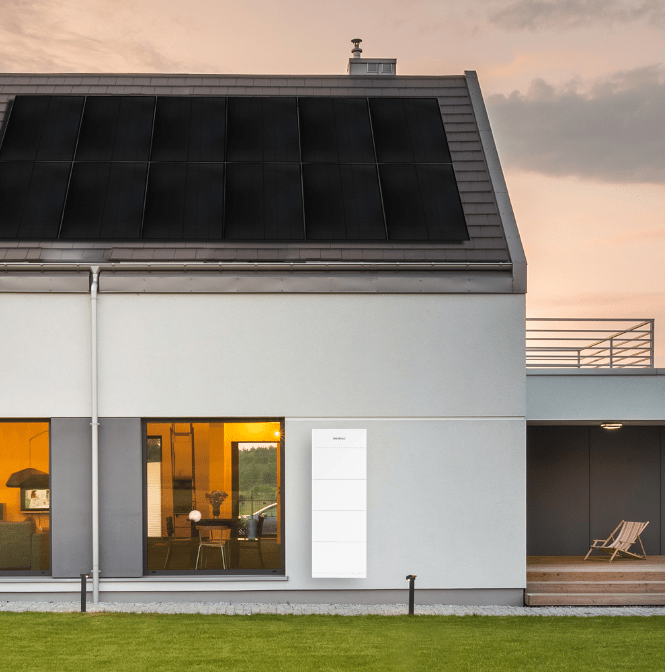 Why Choose
ESE Group

For Your Black Solar Panels?
The rise of renewable energy has transformed the energy landscape in recent years, and solar power is at the forefront of this transformation. However, with multiple options available, like blue and black solar panels, knowing where to start can be challenging.
While blue and black solar panels have unique advantages, black is becoming increasingly popular because of its sleek look and efficiency. But did you know that black solar panels are typically harder to source than blue ones?
Thanks to ESE Group, that's no longer a problem for our clients. We know the benefits black solar panels offer, so we offer them as part of our services too!
To help you decide if black solar panels are right for you, fill out our online form today, and you could be in contact with one of our solar experts within 48 hours. Whilst you wait, read on below to find out everything you need to know about black solar panels.
Our Battery Storage
Best Sellers
Some of our most popular battery products available to you
Tesla Powerwall Battery Storage
Solar Edge Battery Storage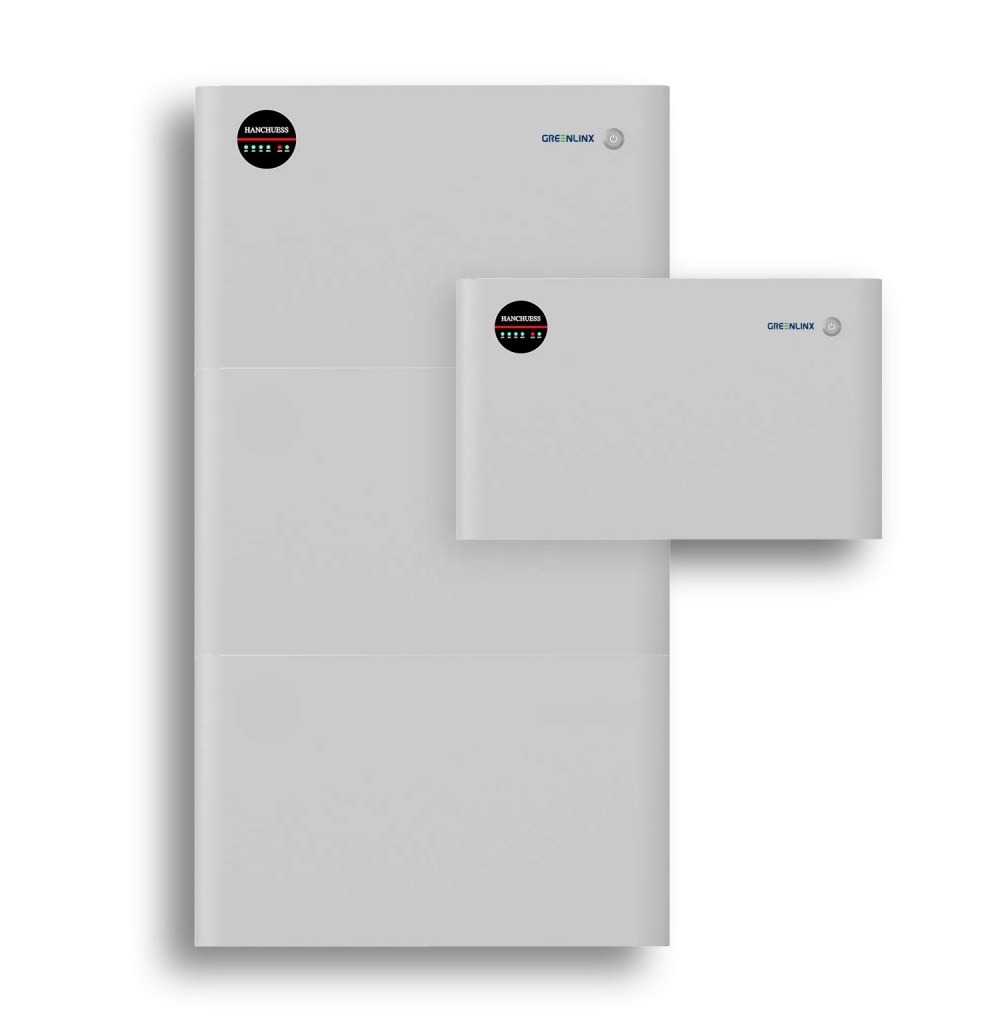 Greenlinx Battery Storage
What Makes Solar Panels
Blue Or Black?
As solar panels have become more popular, you may have seen blue solar panels on quite a few rooftops throughout the UK. These classic blue panels were the most commonly installed panel type through the years.
Blue solar panels owe their colour to the polycrystalline silicon that forms them. Polycrystalline silicon is made by melting many tiny crystals together. In contrast, black panels are made of monocrystalline silicon, or single silicon crystals, which gives them their black colour.
What The Difference Between
Polycrystalline And Monocrystalline?
Blue polycrystalline and black monocrystalline panels contain solar cells which convert sunlight into electricity. For both types of solar panels, silicon crystals make up the solar cells. However, their production processes and efficiency ratings are different.
Here's a more detailed look into the main differences between polycrystalline and monocrystalline.
Production Processes
To make polycrystalline panels, silicon crystal fragments are melted, formed into cubes, and cut into thin wafers. Therefore, many pieces of crystals form each of the solar cells.
On the other hand, each solar cell in monocrystalline panels is made from a slice of a single crystal of silicon that is shaped into octagons to maximise the number of solar cells in the panel.
Making monocrystalline panels is a more precise and rigorous process than making polycrystalline panels. Therefore, manufacturers require more time and energy to make them.
Efficiency Ratings
Efficiency ratings are a measure of how much sunlight hitting the panels is actually converted into electricity.
Blue solar panels usually have an efficiency rating between 13% and 18%. On the other hand, black solar panels have higher ratings of between 15% and 20%. Some experimental models even reach up to 50% efficiency.
Polycrystalline is less efficient because there's less space for the electrons to move around with the melted fragments of silicon.
Get The Best Solar Deals With ESE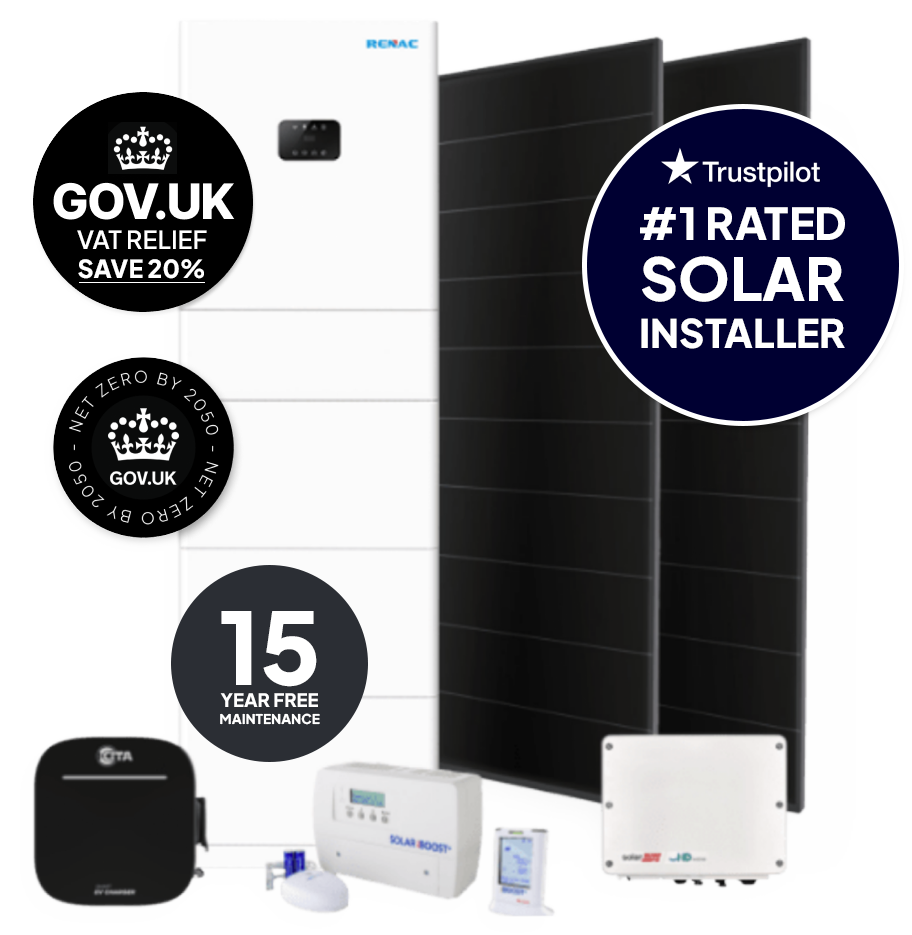 Download our brochure for more information on our

installations & products!
Generate your own electricity to reduce your bills
Reduce your overall carbon footprint and impact on the environment
Making more use of renewable energy sources makes a greener home
Our straightforward process could see you saving on bills in just a few weeks
Get your highly competitive no-obligation quote
Our straightforward process could see you saving on bills in just a few weeks!
Enter your postcode and answer a few questions about you and your property
Chat with one of our friendly advisors who will answer all of your solar related questions
Once you are happy with your bespoke quote, our expert installers will have you installed within 1 month
You can expect to see your energy bills reduce within the first month of having your solar panels installed
Get your highly competitive no-obligation quote in less than 60 seconds
What Are The
Pros Of Black Solar Panels?
In recent years, more manufacturers and installers are choosing to offer black solar panels as an option. Many people prefer installing black instead of blue solar panels.
So, what's the reason behind the popularity of black solar panels?
Aesthetic Value
Aesthetic value is a weighty consideration for most home and business owners when they're contemplating a switch to solar energy. In the past, blue solar panels were sometimes considered unattractive and may have contributed to home and business owners rejecting the idea of solar panels on their property as a result.
Black solar panels are a more attractive option. They look sleek and modern. They also blend in more seamlessly against dark roofs and enhance a building's visual appeal.
Their uniform, black colour also lends a sense of continuity and symmetry to solar arrays, making them look cleaner, even when natural dirt and dust build up over time.
Efficiency
Because black absorbs more light than any other colour, black solar panels can absorb more sunlight than blue ones. Blue solar panels tend to reflect some of the sunlight that hits them.
Apart from that, their higher efficiency ratings due to their monocrystalline structure allow them to convert more sunlight into energy than blue panels.
Black panels can produce more energy even on cloudy days. With black panels, your home or business can depend more on solar energy, potentially reducing your electricity costs in the long run.
Space Savers
Black solar panels can produce more power per square foot than blue panels. Hence, you'll need to install fewer panels to provide sufficient energy than if you were installing blue panels. This perk can be especially beneficial for people with limited roof space to mount solar panels.
Pros Of Black Solar Panels: Summary
More aesthetically pleasing
Better energy output than blue solar panels
Able to produce more energy with less panels in a solar array
What Are The
Cons Of Black Solar Panels?
Despite the benefits of black solar panels, you should consider a few drawbacks before deciding on them. Here are a few cons that may affect your decision.
Price
Black solar panels are typically more expensive than blue ones. This price difference is due to the more complex production process behind black panels, resulting in a higher cost per panel.
However, since you'll need fewer black than blue panels to generate the same amount of power, it can close some of the price difference. The long-term savings from using solar energy can often outweigh the initial cost of the panels, and black solar panels' efficiency may help you recoup some of the initial costs.
Accessibility
Blue solar panels have been around for longer and are therefore more widely produced. As a newer product, black solar panels may be less accessible. Additionally, fewer installers in the UK may offer black panels as an option.
However, if you want higher-efficiency solar panels, we at ESE Group offer a premium all-black solar panel option in the UK.
Cons Of Black Solar Panels: Summary
Costs more initially (but can help you recoup costs faster)
Limited availability with some solar panel installers (but not ESE Group)
Get The Best Solar Deals With ESE
Enquire with us today and get your solar installed within 4 weeks!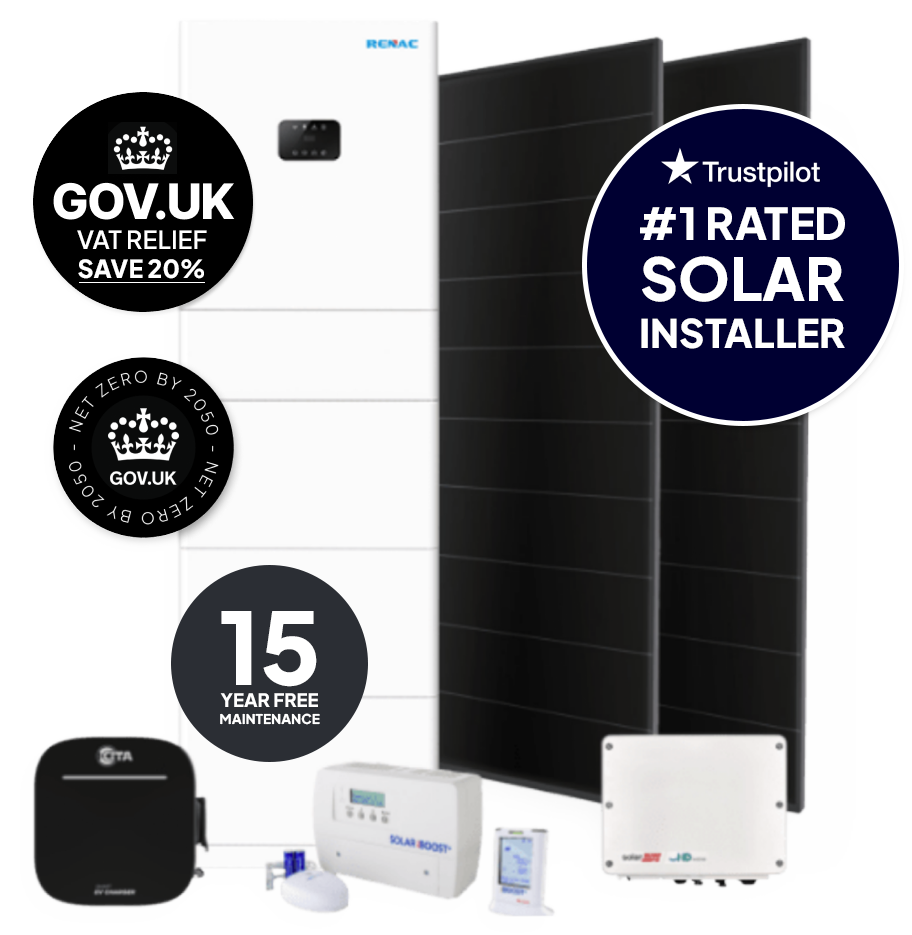 Blue Or Black:
What's Better For You?
There are a few things to consider if you're unsure whether to get blue or black solar panels. You should choose which best fits your needs and preferences.
These questions can help you decide.
Do You Prioritise Efficiency Over Initial Cost?
Black panels tend to cost more but have higher efficiency. In the long run, higher efficiency could result in higher savings. If you prioritise efficiency, black panels can be a better choice for you.
However, initial installation costs for solar panels can be heavy. If you're on a limited budget and want to save as much on the expenses upfront, you may consider opting for blue panels.
Do You Care About Aesthetics?
Black solar panels are a better choice if you care about aesthetics. Even if the upfront cost is an issue for you, choosing a more aesthetically pleasing solar panel option may help sway your decision. If a solar panel looks better and performs better, it's usually a popular choice for most home and business owners.
How Much Sunlight Does Your Area Receive?
Blue solar panels can produce sufficient electricity for your needs if you live in an area that's sunny year-round. On the other hand, if it tends to be cloudy in your area like it does in the UK, black is the way to go.
How Much Roof Space Do You Have? 
As we mentioned, black solar panels are space savers. If you have a small roof space, black panels are your best bet. They'll generate enough energy even if you only have a few of them mounted on your roof.
ESE Group's

All-Black Solar Panels
If you think black solar panels are the best choice for you, we at ESE Group are one of the few installers in the UK who offer all-black solar panels.
We only use premium, high-performing solar panels. The uniform alignment of our all-black solar panels absorbs more light and generates more electricity for your home!
Black Solar Panels
Summary
Choosing highly-efficient, black solar panels is a wise investment for those who prioritise efficiency and aesthetics. With their sleek design and superior light absorption, black panels are the way to go for maximum energy generation in your beautiful home.
Here's what our
customers

say about us
The engineer was so knowledgeable, much good advice did not pressure me in any way made good suggestions none of this 'we've a special offer if you sign today 'nonsense ! A true gentleman! And the price was good too ! Excellent customer service!
Great product great price I'm well happy and it's only been in two days even a neighbour has placed a order with the company after seeing mine
Clean and swift installation. All components have been installed together with the panels within one day. The system is working without any issues. We are very happy and recommend ESE Group to our friends.
From the very first contact to the fitting and subsequent follow up everyone in the company was on top of their game. The products used were top quality and the cost was more than competitive
Some of the most common questions about black solar panels are answered for you here…