Choose
Coloured Solar Panels

For Your Home
Coloured options for your solar panels for greater aesthetic appeal
Go solar, generate free energy and and take charge of your bills
Take advantage of 0% VAT deal to make your installation even more affordable
We will  always price match with any of the competition so you know you are getting the best deal
Pay for your solar setup with manageable payments over a 7-year period
All our solar installations come with our industry leading 17-year FREE maintenance plan worth £3600 giving you peace of mind
We've got your covered – all our DMEGC solar panels come with a huge 26 year warranty
Our Greenlinx Solar Batteries come with 12 year warranty so you can stay worry free
Take advantage of 0% VAT deal to make your installation even more affordable
We will  always price match with any of the competition so you know you are getting the best deal
Pay for your solar setup with manageable payments over a 7-year period
All our solar installations come with our industry leading 17-year FREE maintenance plan worth £3600 giving you peace of mind
We've got your covered – all our DMEGC solar panels come with a huge 26 year warranty
Our Greenlinx Solar Batteries come with 12 year warranty so you can stay worry free
Coloured Solar Panels

Explained
When you think of solar panels covering a roof, what's the first colour that comes to mind? Black or maybe blue, right?
Well, what would you say if we told you that you can now colour-code your solar panels with the colour of your roof or to match the rest of your property? Thanks to high-tech, roof-top solar cells are now available in a wide selection of shades.
So, if you want to lower your carbon footprint, but feel like you'd like to try out a bolder colour beyond the standard solar panel colours, you are in luck. Find out more about coloured solar panels and whether they're more efficient at producing energy than the typical blue or black panels we're used to.
Types Of
Coloured Solar Panels
During the manufacturing process of standard panels, silicon turns either black or blue. Yet, some manufacturers are finding ways to create panels that do a good job of harnessing the sun's energy and still look stylish.
Black
Often referred to as monocrystalline panels, black solar cells provide better efficiency and are less costly to manufacture than all the others. This is due to their basic manufacturing process, which results in single-crystal cells. As a result, these dark photovoltaic (PV) panels appear more uniform and are more durable.
Another notable feature of black panels is that they take up less space. Because they produce more energy per panel, you can install fewer monocrystalline cells to generate the same amount of energy as that made by polycrystalline cells, aka the 'blue' panels.
Blue
Polycrystalline 'blue' panels are made of several crystal cells. The manufacturing process may take longer, but there's less waste compared to the making of other panels.
The upside is that they're less expensive to build and install. They're also less costly to repair and maintain.
Different-Coloured Solar Panels
Now, on to a few bolder colour choices:
White: a more popular option for commercial buildings because it does a better job of complimenting the exterior colour scheme

Green: fits in better with homes located in areas with dense foliage

Brick-red or orange: ideal for roofs made from terracotta roofing tiles

Brown

Grey

Pink
Benefits And Drawbacks

Of Installing Coloured Solar Panels
Here's a quick look at the benefits and challenges this new technology provides.
Pros
Installing coloured solar PV cells provides a more aesthetically pleasing appearance to your home. They're not considered an eyesore that you have to put up with.
They can add style and flair to your home while helping save the environment. This is especially true with historic buildings and monuments where dark panels can ruin their grandeur and timeless appeal.
Cons
The biggest drawback is that coloured panels generally produce less energy than their blue or black counterparts. The reason is that the darker the shade, the more sunlight it'll absorb. Hence, dark-coloured solar PV panels have less energy output than monochromatic solar panels.
Coloured Solar Panel

Summary
So, are you feeling adventurous enough to break free from the traditional monochromatic and try out some coloured solar panels? Then, you're ready for some solar arrays that blend in, or stand out, with the colour of your roof.
With this high-tech solution, you no longer have to compromise aesthetics for efficiency when it comes to harnessing the unlimited power of the sun, and ESE Group can help you on your coloured solar panel journey today!
Get The Best Solar Deals With ESE
Enquire with us today and get your solar installed within 4 weeks!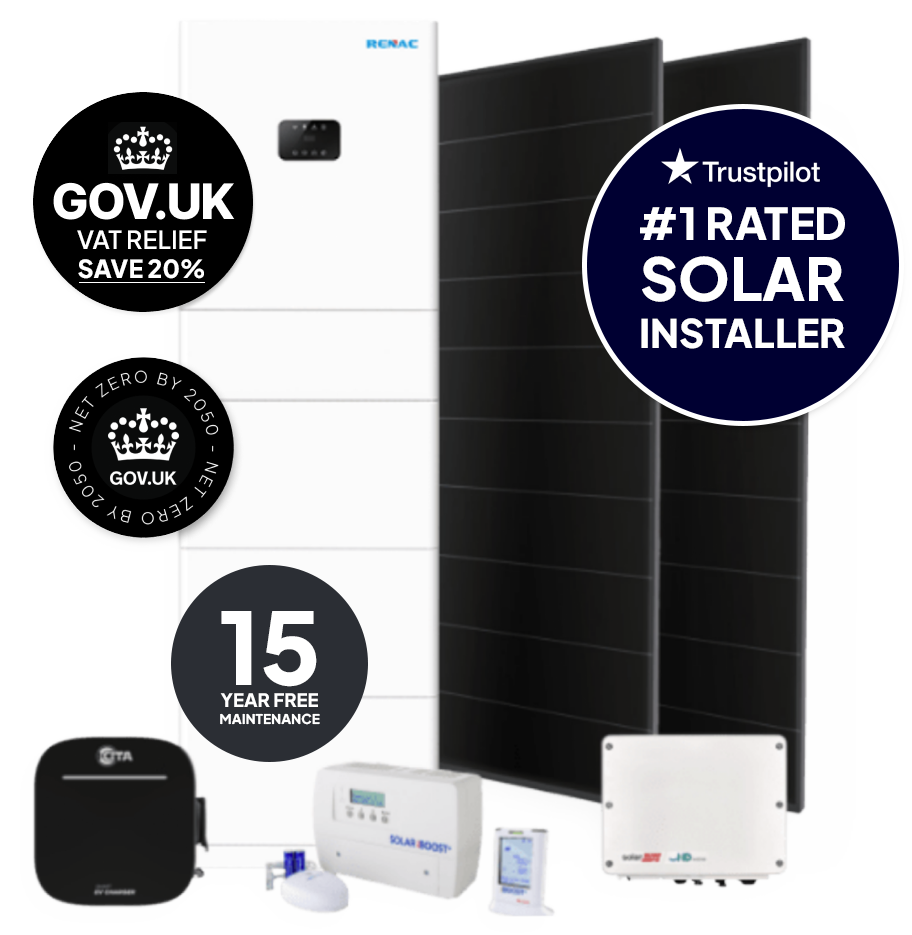 Download our brochure for more information on our

installations & products!
Generate your own electricity to reduce your bills
Reduce your overall carbon footprint and impact on the environment
Making more use of renewable energy sources makes a greener home
Here's what our
customers

say about us
The engineer was so knowledgeable, much good advice did not pressure me in any way made good suggestions none of this 'we've a special offer if you sign today 'nonsense ! A true gentleman! And the price was good too ! Excellent customer service!
Great product great price I'm well happy and it's only been in two days even a neighbour has placed a order with the company after seeing mine
Clean and swift installation. All components have been installed together with the panels within one day. The system is working without any issues. We are very happy and recommend ESE Group to our friends.
From the very first contact to the fitting and subsequent follow up everyone in the company was on top of their game. The products used were top quality and the cost was more than competitive
Our straightforward process could see you saving on bills in just a few weeks
Get your highly competitive no-obligation quote
Our straightforward process could see you saving on bills in just a few weeks!
Enter your postcode and answer a few questions about you and your property
Chat with one of our friendly advisors who will answer all of your solar related questions
Once you are happy with your bespoke quote, our expert installers will have you installed within 1 month
You can expect to see your energy bills reduce within the first month of having your solar panels installed
Get your highly competitive no-obligation quote in less than 60 seconds
Coloured Solar Panels FAQs
Some of the most common questions about coloured solar panels are answered for you here…