Install A
Heating Solar System

Today
Innovative technology to use solar energy to heat your home and water
Go solar, generate free energy and and take charge of your bills
Take advantage of 0% VAT deal to make your installation even more affordable
We will  always price match with any of the competition so you know you are getting the best deal
Pay for your solar setup with manageable payments over a 7-year period
All our solar installations come with our industry leading 17-year FREE maintenance plan worth £3600 giving you peace of mind
We've got your covered – all our DMEGC solar panels come with a huge 26 year warranty
Our Greenlinx Solar Batteries come with 12 year warranty so you can stay worry free
Take advantage of 0% VAT deal to make your installation even more affordable
We will  always price match with any of the competition so you know you are getting the best deal
Pay for your solar setup with manageable payments over a 7-year period
All our solar installations come with our industry leading 17-year FREE maintenance plan worth £3600 giving you peace of mind
We've got your covered – all our DMEGC solar panels come with a huge 26 year warranty
Our Greenlinx Solar Batteries come with 12 year warranty so you can stay worry free
Why Choose A
Solar Heating System?
A solar heating system is a terrific way to take advantage of the sun's renewable energy to fight climate change. It'll also help you save money on your utility bills at the same time. It's estimated that this natural source of energy can provide over half of your water-heating needs throughout the year.
We rounded up everything you need to know about using this innovative technology, from how they work to how much payback you'll receive on your investment. So, keep reading to find out if solar heaters are something you should consider installing.
Heating Solar Systems:

A Brief Overview
Interested in reducing your carbon footprint while still enjoying hot showers and central heating? Solar heaters can help you do just that!
Take a look.
Heating Solar Systems
vs

Solar Panels
Heating solar systems aren't to be confused with traditional solar photovoltaic (PV) panels. The former is a system designed to supply your home with hot water or to heat your home via a central heating system.
With solar heaters, leftover energy is always stored away until needed.
On the other hand, PV solar cells are used to generate electricity directly fed into the home. Then, any extra power left over at the end of the day can be stored in a solar cell battery or fed into the National Grid.
The good news is that installers can now set up a heating solar system next to the standard solar panel array. Together, this dual system can generate more electricity, which is used to power the solar heating pump.
Heating Solar System

Installation
According to the Energy Saving Trust (EST), solar heaters can supply between 60% and 90% of all your household heating needs during the summer. Even on cloudy or rainy days, the panels will still be able to absorb the sun's radiation and convert it into energy.
Yet, you should expect it to drop to around 25% to 40% in the winter. This means you'll still need to resort to the traditional methods of heating your home for at least half the time.
Nevertheless, solar heating panels installed on the roof of the average domestic home can reduce carbon dioxide emissions by about 400 kg annually.
The most ideal place to install solar heaters is on a south-facing pitched roof typically at an angle between 20 and 50 degrees. If the roof is flat or you'd prefer ground-mount heaters, installers can mount the array on an angled frame.
The entire setup will need around 2–5 square metres of space. In some cases, installers may also need additional space to position a water cylinder near the solar heating system.
The good news is that most residential solar water heating systems fall under the category of 'permitted development'. In other words, they don't require planning permits. The only exceptions are listed buildings, conservation areas, or national parks.
If you decide to work with ESE, we'll offer a comprehensive service, including the following:
Assess the feasibility of your project

Conduct a site survey of your property

Discuss your legal obligations and financial options

Issue a formal quote

Advise you on any potential grant applications or discounts available in your area

Set up your solar heating system network

Send an invoice for the completed project

Issue a five or 10-year warranty
Types Of
Solar Heat Systems
There are two types of solar heat systems: flat plate and evacuated tube collectors.
Flat Plate Collectors
In this type of solar heater, the water passes through the entire plate where it's heated before flowing back to the cylinder. Flat plates are easier to install because they can be easily integrated into the roof fabric and tend to have a low profile.
They're also less of a hassle to manage and maintain.
Evacuated Tube Collectors
This type consists of a group of glass tubes fitted with a copper conductor filled with liquid and placed on the roof tiles. When the liquid heats up, it expands and rises to the top part of the tube. This is when the heat from the liquid is transferred to the tubes, which then flow to the water tank in your home.
Because of their more complex design, evacuated tube collectors are more expensive to install and maintain. Yet, they're more efficient at producing energy than flat-plate versions.
Get The Best Solar Deals With ESE
Enquire with us today and get your solar installed within 4 weeks!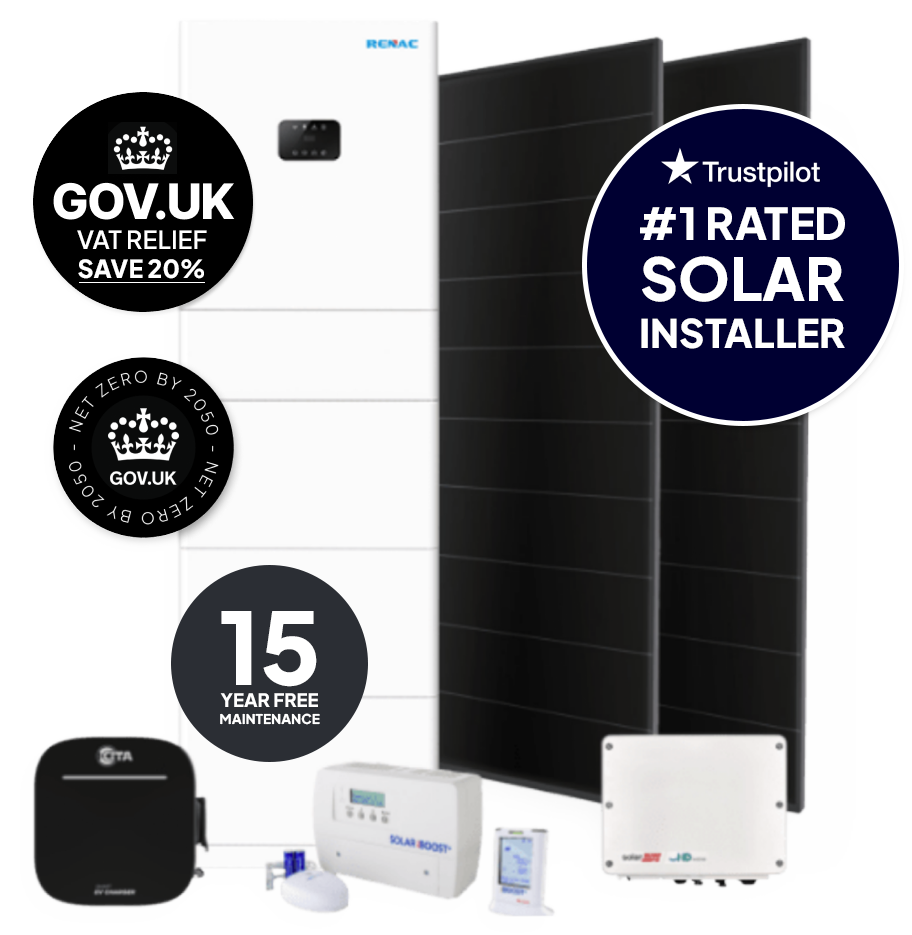 Heating Solar System

Uses
As mentioned above, solar heaters are used to provide central heating for your home and hot water.
Yet, most domestic boilers don't have the capability to receive heat from solar panels. In this case, your installer will advise you to install an additional water tank or replace your old boiler.
There may be a third solution where you won't need to replace or add. This solution is in the form of a package that you can plug into your old boiler. Once plugged in, this package ensures that the water tank receives feed from the heating solar system and works at full capacity.
Swimming pools are also another ideal application for solar heaters. Luckily, you can use your pool more frequently during the summer when the sun's rays are at their strongest.
Heating Solar System

Pros & Cons
Many in the UK are switching to solar water heating arrays because they offer quicker paybacks compared to standard PV panels. While the latter has a payback of around 20–30 years, the payback of a heating solar system can be between 7 and 15 years, which makes it a worthy investment.
That said, like all types of energy, they're not without their faults. Below you'll find a quick rundown of the good and the bad of installing a solar panel central heating system.
Pros
The first advantage is that solar heating systems provide you with a free source of hot water and heat. After the initial costs of installation, you'll start to notice a dramatic drop in your electricity bills, thanks to the sun's limitless supply of energy.
Plus, when installed right, these systems tend to be low-maintenance and easy to manage.
Luckily, there's a pretty impressive number of heating solar system installers in the UK, just like ESE Group. So, you won't have trouble finding a reputable company to set up your heating array.
Plus, they offer competitive prices, so make sure you do a bit of research to find the best offer. Make sure you look for companies with experience installing solar systems in general as well as having recognised plumbing and heating certifications, such as:
APHC (Association of Plumbing and Heating Contractors)

CORGI (Council Registered Gas Installers)

CIPHE (Chartered Institute of Plumbing and Heating Engineering)
Cons
The biggest downside of solar heaters is their high initial setup costs. On average, a standard heating solar system can cost anywhere between £3,000 and £5,000.
Another drawback is that you still need an immersion heater or traditional boiler to provide hot water when solar energy isn't available and the stored supply has run out.
Heating Solar System

Summary
Installing a heating solar system on your roof or property is a great way to cut back on your dependence on fossil fuels. The system provides a lot of advantages for your home and the environment. Yet, it also has a couple of downsides worth checking out.
So, are you ready to take the plunge? Contact ESE Group to see if a solar heating system is right for your household.
Get The Best Solar Deals With ESE
Enquire with us today and get your solar installed within 4 weeks!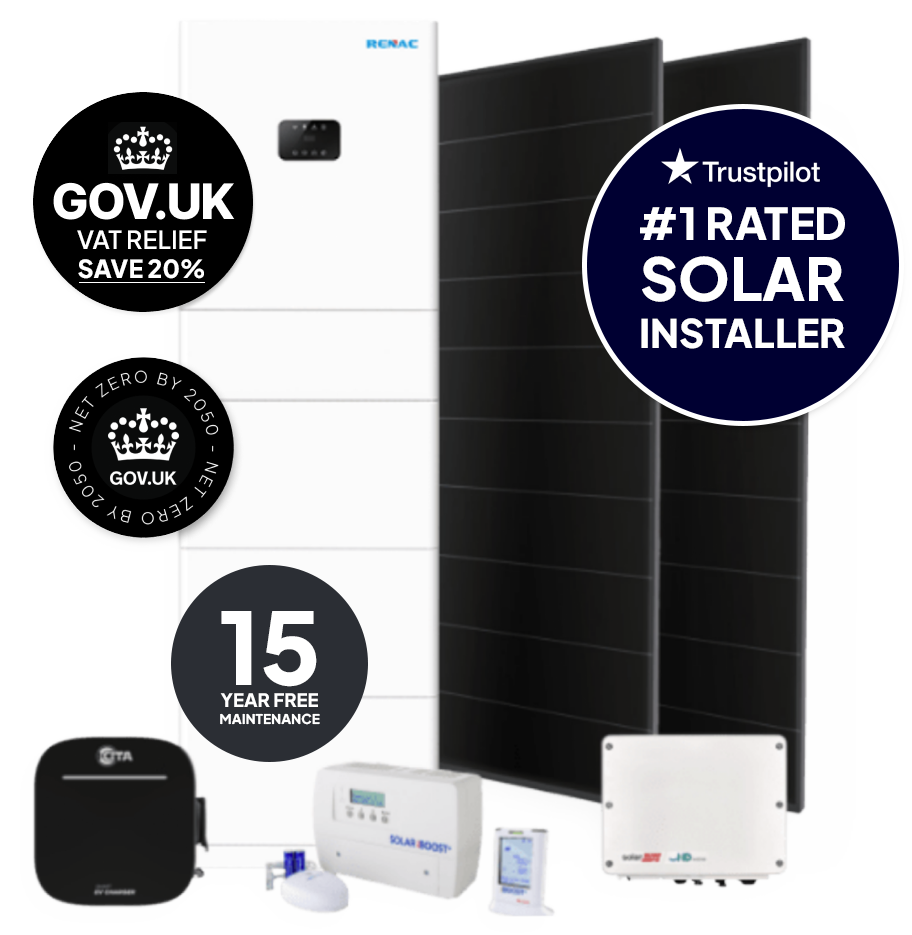 Download our brochure for more information on our

installations & products!
Generate your own electricity to reduce your bills
Reduce your overall carbon footprint and impact on the environment
Making more use of renewable energy sources makes a greener home
Here's what our
customers

say about us
The engineer was so knowledgeable, much good advice did not pressure me in any way made good suggestions none of this 'we've a special offer if you sign today 'nonsense ! A true gentleman! And the price was good too ! Excellent customer service!
Great product great price I'm well happy and it's only been in two days even a neighbour has placed a order with the company after seeing mine
Clean and swift installation. All components have been installed together with the panels within one day. The system is working without any issues. We are very happy and recommend ESE Group to our friends.
From the very first contact to the fitting and subsequent follow up everyone in the company was on top of their game. The products used were top quality and the cost was more than competitive
Our straightforward process could see you saving on bills in just a few weeks
Get your highly competitive no-obligation quote
Our straightforward process could see you saving on bills in just a few weeks!
Enter your postcode and answer a few questions about you and your property
Chat with one of our friendly advisors who will answer all of your solar related questions
Once you are happy with your bespoke quote, our expert installers will have you installed within 1 month
You can expect to see your energy bills reduce within the first month of having your solar panels installed
Get your highly competitive no-obligation quote in less than 60 seconds
Heating Solar System FAQs
Some of the most common questions about heating solar systems are answered for you here…