Rooftop Solar Panels:

Your Solar PV Solution
Rooftop Solar PV systems designed to maximise efficiency and savings
Go solar, generate free energy and and take charge of your bills
Take advantage of 0% VAT deal to make your installation even more affordable
We will  always price match with any of the competition so you know you are getting the best deal
Pay for your solar setup with manageable payments over a 7-year period
All our solar installations come with our industry leading 17-year FREE maintenance plan worth £3600 giving you peace of mind
We've got your covered – all our DMEGC solar panels come with a huge 26 year warranty
Our Greenlinx Solar Batteries come with 12 year warranty so you can stay worry free
Take advantage of 0% VAT deal to make your installation even more affordable
We will  always price match with any of the competition so you know you are getting the best deal
Pay for your solar setup with manageable payments over a 7-year period
All our solar installations come with our industry leading 17-year FREE maintenance plan worth £3600 giving you peace of mind
We've got your covered – all our DMEGC solar panels come with a huge 26 year warranty
Our Greenlinx Solar Batteries come with 12 year warranty so you can stay worry free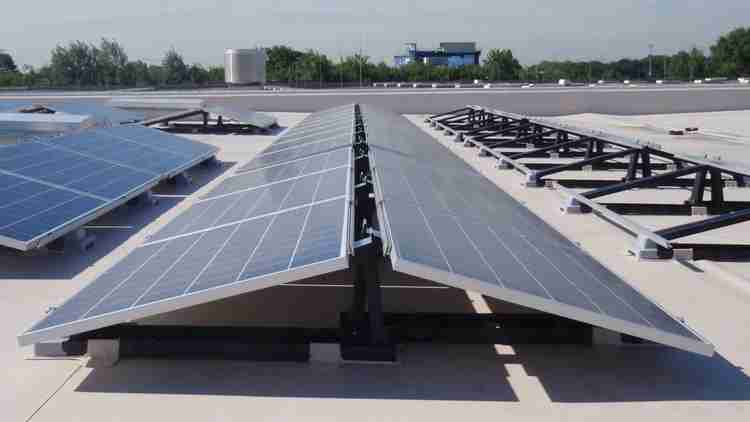 Are
Rooftop Solar Panels

Right For Me?
With the increased number of people in the UK choosing to install solar panels, the question remains whether rooftop solar panels are the best option. Solar rooftops can be the smartest solution, and these cost-effective systems provide multiple benefits.
If you're thinking of installing rooftop solar panels at your home or business, then read on below to find out whether they're right for you, and how ESE Group can help you achieve your solar panel dreams today.
The Benefits Of
Rooftop Solar Panels
The main difference between rooftop solar systems and all the other types is the place of installation. It's such a simple difference, but it brings along some benefits, including:
Saving Space
Installing your rooftop solar panels on the roof saves you space compared to other locations. For instance, if you're installing ground mounts or integrated PV solar systems, you would need to clear some space. However, with rooftop panels, you can take advantage of the unused roof space.
Sunlight Exposure
Typically, some sections of your property might be shaded. However, the rooftop can often be the least shaded spot, given its height.
Sure, PV panels work well in shaded areas. Yet, they work best under direct sunlight.
When you install your panels on the rooftop, you won't have to worry all that much about fences or landscaping elements that might block the sunlight.
Low Maintenance
Rooftop panels are low maintenance and don't require much care. All you need is to follow a routine maintenance schedule, tackling tasks like:
Making sure the inverter light is flashing green.

Documenting your energy production and consumption to always keep your panels' performance in check. 
Fortunately, rooftop solar panels have a life expectancy of 20–25 years. When you factor in their lifespan, you'll see that the maintenance routine isn't a deal-breaker. Some people even find that installing automated cleaners or monitoring systems is worth it.
Cost Efficiency
Generally speaking, rooftop solar panels are a cheaper power source. You can connect the PV system to the grid. That way, you have enough electricity to power your house at a lower cost, and you won't pay much beyond the installation fees unless you get extras or upgrades.
Plus, by installing solar panels, you won't be affected by increases in utility prices. In fact, you might even be able to make some extra cash out of it! If you connect your rooftop system to the grid, you can sell your excess power and benefit from SEG payments.
Eco-Friendly Power
When it comes to making eco-friendly choices, you can't go wrong with solar panels. They don't cause any carbon emissions or greenhouse gases. Thus, they can help you decrease the carbon footprint of your household.
For reference, a typical 3.5kW solar system can cut down your house's CO2 emissions by nearly a tonne every year.
Get The Best Solar Deals With ESE
Enquire with us today and get your solar installed within 4 weeks!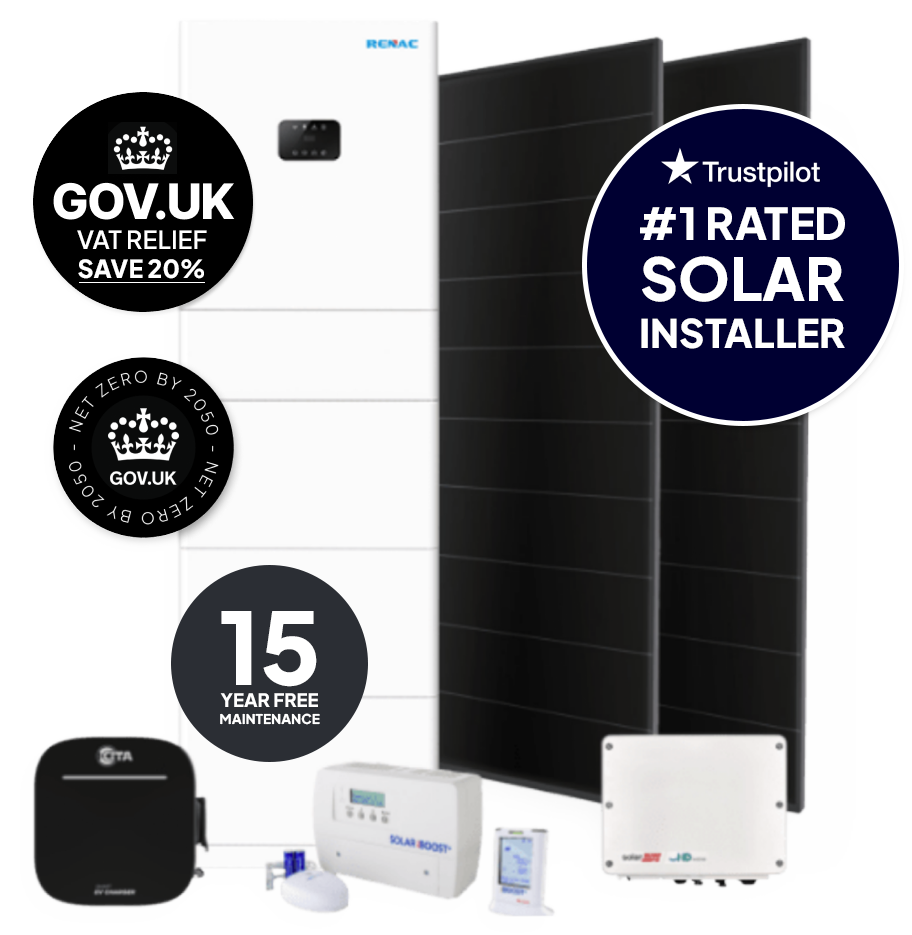 Installing
Rooftop Solar Panels

On A Sloping Roof
If you're installing PV panels on a sloping tiled roof, you can always opt for the easiest option and install the solar rooftop directly over the roof tiles.
In addition, you have two other options:
On-Roof Installation
The on-roof method entails installing solar panels over on-roof mounting brackets and attaching the PV panels over the roof tiles.
That's the most popular choice, especially on already existing rooftops, where you have several safety factors to consider.
In addition, it has three key benefits:
It's more cost-efficient.

It allows ventilation through the back of the tilted panels.

It doesn't entail clearing space by removing roof tiles.
How To Install On-Roof Panels
Installing on-roof panels would most probably require professional help. After all, the process entails constructing scaffolding, taking measurements, and choosing the right (usually the south-facing) side of the roof.
There's also the process of attaching hooks with a water-proof sealant before connecting the rails that will carry the panels.
However, if you want to know how it's done, check out this ESE solar installation video that shows you the highlights of the installation process.
In-Roof Installation
Unlike the regular on-roof installation, the roof-integrated method works by removing the tiles from a specific area to clear up space. That allows you to attach the solar panels directly over the rafters and battens.
This method uses the same solar panels as the on-roof method, but the primary difference is where and how those panels get mounted.
Overall, integrated panels are ideal for re-roofed houses or new buildings. In those cases, you already have the opportunity to install panels instead of roof tiles, and you'll get to save on tiling costs.
On-Roof vs. In-Roof:

Choosing The Right Panels For Your Home
Before you decide on an installation method, there are a couple of factors to keep in mind.
Aesthetics
When you install the panels on a new roof, you'll end up with a sleek look compared to the on-roof counterparts with rails, but there's a catch.
Integrated could pose some design concerns when installed on existing roofs.
For starters, the panels are thicker than the tiles, which makes them stand out. Contrary to popular belief, the panels won't align perfectly with the roof tiles. To minimise this risk, make sure to pick integrated panels that match your home's current aesthetic.
Efficiency
In-roof solar systems aren't very efficient on existing roofs. In fact, they can be about 5-10% less efficient than on-roof panels. 
That's primarily due to the lack of ventilation. After all, on-roof panels have a slight tilt that allows ventilation.
Installing
Rooftop Solar Panels

On A Flat Roof
It's possible to install solar rooftops on flat roofs, too. However, there are some points to consider.
You may need building permission to install solar panels on some properties.

The solar panel system you install on flat roofs consumes more space than those mounted on sloping roofs. This is mainly because you have to separate the rows of panels in order not to shade one another.

You can't fix the frames of solar panels directly on flat roofs. Thus, the roof must be strong enough to support the weight of the panels and the ballasts securing them.
Making
Rooftop Solar Panels

Even More Green
In addition to on-roof and in-roof installation, there's a third, more environmentally friendly way: the Biosolar roof. 
Some people cover their roofs with vegetation to form a green roof, fulfilling the eco-credentials for the building.
Fortunately, you can still install rooftop solar systems on green roofs. That way, you form Biosolar roofs. In this case, the solar panels are fixed on solar mounts ballasted into the soil.
As a bonus, the vegetation growing on the roof can help control the ambient temperature around the solar panels and boost their efficiency!
Get The Best Solar Deals With ESE
Enquire with us today and get your solar installed within 4 weeks!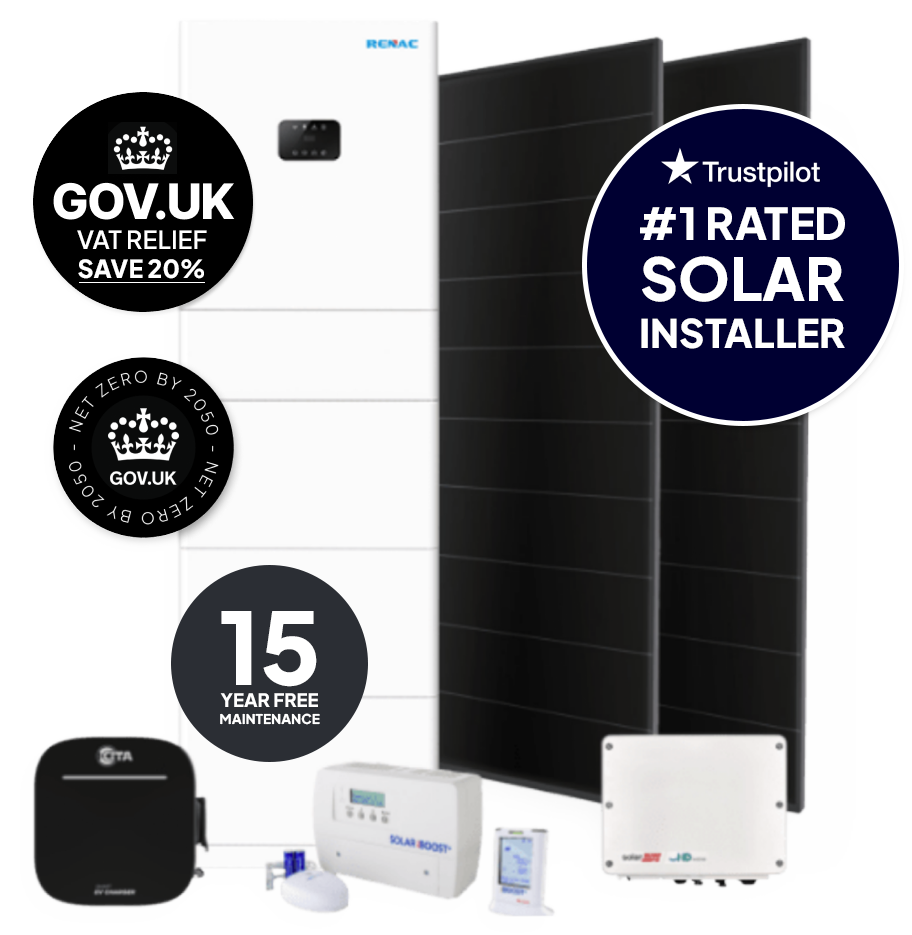 Rooftop Solar Panel

Summary
Rooftop solar panels can be an ideal solution for your energy needs, and they work on both flat and tiled sloping roofs. The method of installation depends primarily on the shape and age of your roof. For instance, you may use the on-roof method for existing sloping rooftops and the in-roof method for new ones.
All in all, there are several advantages to installing rooftop solar systems. They're cost-efficient, low-maintenance, and eco-friendly.
It's time to resort to rooftop panels for a cleaner and cheaper energy source. Feel free to contact us if you have any further questions.
Download our brochure for more information on our

installations & products!
Generate your own electricity to reduce your bills
Reduce your overall carbon footprint and impact on the environment
Making more use of renewable energy sources makes a greener home
Here's what our
customers

say about us
The engineer was so knowledgeable, much good advice did not pressure me in any way made good suggestions none of this 'we've a special offer if you sign today 'nonsense ! A true gentleman! And the price was good too ! Excellent customer service!
Great product great price I'm well happy and it's only been in two days even a neighbour has placed a order with the company after seeing mine
Clean and swift installation. All components have been installed together with the panels within one day. The system is working without any issues. We are very happy and recommend ESE Group to our friends.
From the very first contact to the fitting and subsequent follow up everyone in the company was on top of their game. The products used were top quality and the cost was more than competitive
Our straightforward process could see you saving on bills in just a few weeks
Get your highly competitive no-obligation quote
Our straightforward process could see you saving on bills in just a few weeks!
Enter your postcode and answer a few questions about you and your property
Chat with one of our friendly advisors who will answer all of your solar related questions
Once you are happy with your bespoke quote, our expert installers will have you installed within 1 month
You can expect to see your energy bills reduce within the first month of having your solar panels installed
Get your highly competitive no-obligation quote in less than 60 seconds
Rooftop Solar Panels FAQs
Some of the most common questions about rooftop solar panels are answered for you here…
Believe it or not, not every roof is suitable for installing rooftop solar panels. Several factors determine the compatibility of your roof, including:
Your roof's orientation

Roof insulation material

Sunlight and installation angles
One of the most common disadvantages is the initial installation costs, which can be rather expensive. Needless to mention, there are some extras and upgrades that often catch people off guard.
Fortunately, these prices are decreasing now as the industry expands. Plus, you can check the solar panel grants or consider getting a loan to help with your payment plan.