Solar Panels Wales From
£6,995
Bringing the benefits of solar to households in Wales
Enjoy the bills savings and reduced carbon footprint through a solar PV system. Our package includes, 15 Years FREE Maintenance on your Solar system
Take advantage of 0% VAT deal to make your installation even more affordable
We will  always price match with any of the competition so you know you are getting the best deal
Pay for your solar setup with manageable payments over a 7-year period
All our solar installations come with our industry leading 17-year FREE maintenance plan worth £3600 giving you peace of mind
We've got your covered – all our DMEGC solar panels come with a huge 26 year warranty
Our Greenlinx Solar Batteries come with 12 year warranty so you can stay worry free
Take advantage of 0% VAT deal to make your installation even more affordable
We will  always price match with any of the competition so you know you are getting the best deal
Pay for your solar setup with manageable payments over a 7-year period
All our solar installations come with our industry leading 17-year FREE maintenance plan worth £3600 giving you peace of mind
We've got your covered – all our DMEGC solar panels come with a huge 26 year warranty
Our Greenlinx Solar Batteries come with 12 year warranty so you can stay worry free
Our
Best Sellers

in Green Energy Solutions
Some of our most popular solar products available to you
Solar Panels In
Wales

and the UK
In the UK, about 12,000 solar panels are installed every month. Now, more than one million solar power systems contribute to 4% of the total electricity generation in the country, according to government figures.
In Wales alone, 55% of the total electric consumption comes from renewable energy. The Welsh government targets a 15% increase in usage by 2030, finally reaching net zero by 2050.
Along with this, the UK government's Smart Export Guarantee (SEG) policy encourages homeowners to switch to green energy by granting them the sale of their excess solar-generated electricity.
Solar panels, also called photovoltaics (PV), are composed of semiconductors that directly convert solar energy to electricity. An inverter changes the generated direct current (DC) electricity to alternating current (AC), which generates power.
This energy conversion process is also known as the photovoltaic effect. The photovoltaic system is a widely-used solar panel system in the United Kingdom.
The amount of sunlight determines the amount of electricity generated. It ranges from 18-30 kW/m2 depending on the season and the location.
The solar panels can work even without direct sunlight during cloudy days. Nevertheless, days with strong sunlight are ideal for generating more electricity, with each panel being able to generate 355 W.
The photovoltaic system can either be grid-connected, stand-alone, or a combination of both:
Grid-Connected
Photovoltaic System
The grid-connected PV system connects to the local utility grid. With this, the utility grid can supply extra electricity in case of a shortage in your residential solar panel system.
At the same time, the excess electricity generated in your solar panel system can also be exported to the national grid.
Stand-Alone
Photovoltaic System
In this system, solar batteries accumulate electricity for later use. It's commonly found in areas without a local grid.
It's also more expensive compared to grid-connected systems due to the solar batteries' cost. However, battery storage can be used whether you're grid-connected or not.
Benefits Of Using
Solar Energy
As the accessibility of renewable energy grows, more and more people are making the switch. With this, solar panels are also getting cheaper. In fact, solar panel prices have decreased by about 80% in the last decade. 
Solar energy is not only an environmentally sustainable way of saving money, but it can also provide a year-round supply of electricity that lasts for over 25 years. 
Additionally, it can cut heating costs by an average of 50% based on government research. Altogether, you can save an estimated total in excess of £600 each year by generating your very own solar electricity. 
Further, you can earn additional money with the government's SEG policy which allows you to sell any surplus of solar-generated energy.
Get The Best Solar Deals With ESE
Enquire with us today and get your solar installed within 4 weeks!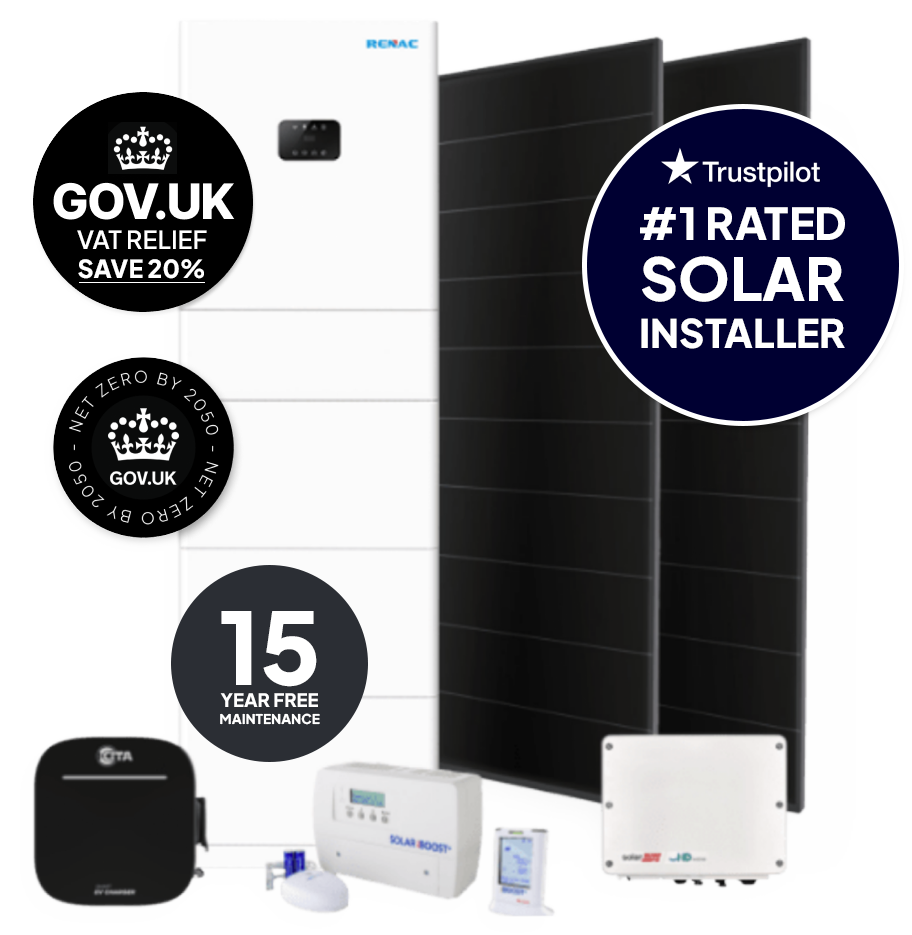 Download our brochure for more information on our

installations & products!
Generate your own electricity to reduce your bills
Reduce your overall carbon footprint and impact on the environment
Making more use of renewable energy sources makes a greener home
Our straightforward process could see you saving on bills in just a few weeks
Get your highly competitive no-obligation quote
Our straightforward process could see you saving on bills in just a few weeks!
Enter your postcode and answer a few questions about you and your property
Chat with one of our friendly advisors who will answer all of your solar related questions
Once you are happy with your bespoke quote, our expert installers will have you installed within 1 month
You can expect to see your energy bills reduce within the first month of having your solar panels installed
Get your highly competitive no-obligation quote in less than 60 seconds
Solar Panel Installation in
Wales
In installing solar panels at your property in Wales, you need to consider the following factors:
Number of windows on the roof

Roof orientation

Roof pitch

Roof material

Shading from the sun

The solar panels' efficiency depends on the time of the year and the direction they're facing. In Wales, panels facing south are more efficient than panels facing north. 
The installation cost depends on many factors, primarily the size and type of your solar panel system. Sizes typically differ from a 3 kW system to a 6 kW system. 
The main types are:
Monocrystalline

Solar Panels
These panels are also called single-crystal panels. Made from one pure silicon crystal, it's the thinnest, most resilient, and most space-efficient solar panel type.
Nevertheless, it's also the most expensive. It's best used in hot climates with scant airflow.
Polycrystalline

Solar Panels
Instead of a single crystal, the panels come from different silicon crystals. With reduced silicon purity, It's less energy and space-efficient.
It's best used in areas with high air circulation and lower temperatures. Although, it's also more affordable.
Starting at just £6,995, we provide a Solar PV Array system installation package that includes:
Our Solar PV Design System provides a comprehensive view of how your newly-installed solar system works.
The simple interface shows a visualisation of the process of energy generation and storage. Using the tool, you can see the amount of energy you'll use and the amount you can export to the grid.
Moreover, our specialist Design System also shows your solar system's performance, electricity bills, and other financial details, as well as its overall environmental impact on the planet.
Here's what our
customers

say about us
The engineer was so knowledgeable, much good advice did not pressure me in any way made good suggestions none of this 'we've a special offer if you sign today 'nonsense ! A true gentleman! And the price was good too ! Excellent customer service!
Great product great price I'm well happy and it's only been in two days even a neighbour has placed a order with the company after seeing mine
Clean and swift installation. All components have been installed together with the panels within one day. The system is working without any issues. We are very happy and recommend ESE Group to our friends.
From the very first contact to the fitting and subsequent follow up everyone in the company was on top of their game. The products used were top quality and the cost was more than competitive
Some of the most common questions about solar installations are answered for you here…